Glastonbury 2010.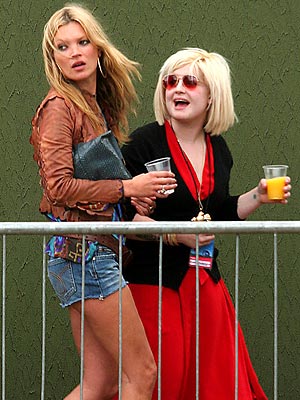 Wireless 2006.
Glastonbury 2005.
Glastonbury 2006.
Isle of Wight 2005.
Glastonbury 2005.
Ever since festivals become fashionable,
Kate Moss
led the fashion stakes right up until
Glastonbury
last week. She bought
the Hunters, the sequins and the leather trousers covered in mud
to every festival about. Moss has inspired me to go to festivals and her sense of
effortless
,
cool
style is
unpredictable
and her
rock chick edge
makes it exciting. Other models would make a rare backstage VIP 10 minute appearance, but its Kate who would head off in the rain and plenty of mud to
England's summer festivals year after year
. Her festival style is
vintage and unique
, teaming
sequin capes with skinny jeans and 'ive just got out of bed' hair
. Her outfits are
unforgettable chic
. Never forgetting the slapdash of the '
All Saints - Glastonbury Rocks
' studded belt in 2005, Moss then became the poster girl for festivals. One of my favourites is Moss at
Wireless
with her
signature denim cut off'
s, the most gorgeous
tanned leather jacket
, working the
scallop edge trend
back in 2006 and her boho silk blouse with her '
just fell out the tourbus
' hair. LOVE! & how could anyone put together
pvc jeans, a studded belt, a lace and velvet cape
and still work it without turning into a goth crazed by death? Kate Moss can, at
Glastonbury
2005. This year she repeated her
fur shawl
at
Glastonbury
from years ago, recycling does work! With gorgeous
Marc Jacobs
ankle boots and her same - old, same - old
hotpants
.
No matter what people say, Kate Moss is the festival Queen.